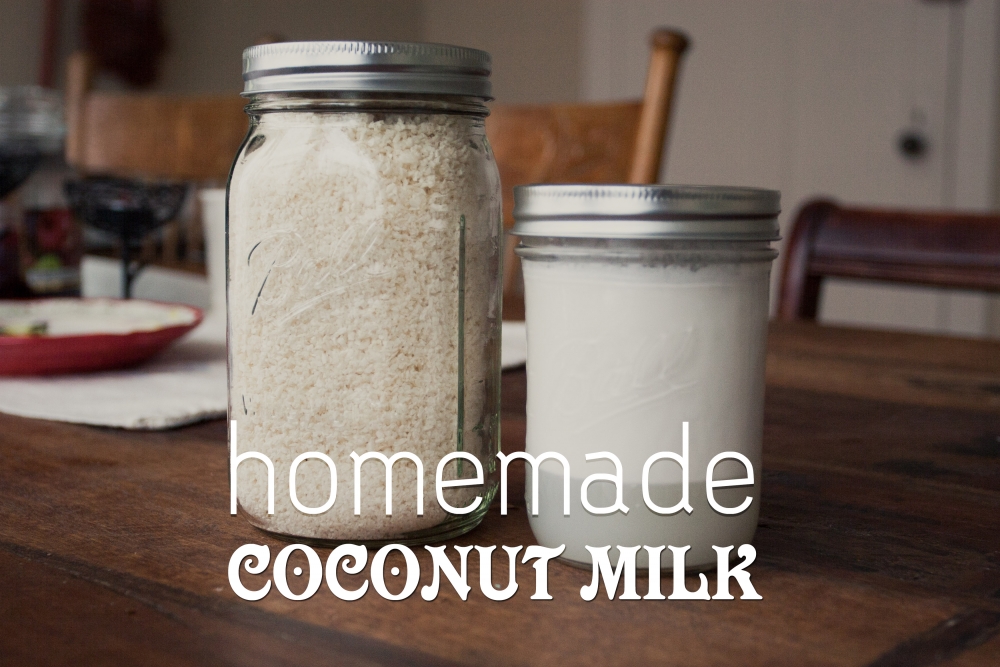 Hardly anything is really from scratch these days. I've made recipes that call for coconut milk so many times, and without even thinking about it I dutifully grab the can opener and open up a can. That's where coconut milk comes from. . . right? Cans?
Canned coconut milk is convenient, but like all convenient things, it comes with a cost, both the actual cost (a can of Thai Kitchen coconut milk runs about $2.50, and a package of Bob's Red Mill shredded coconut runs about $3.50; two coconuts are $2 total), and the fact that store-bought products are not as fresh, and canned products are heated (killing natural enzymes/vitamins) and usually lined with bpa. Not to mention that learning how to make the basics yourself is super rewarding.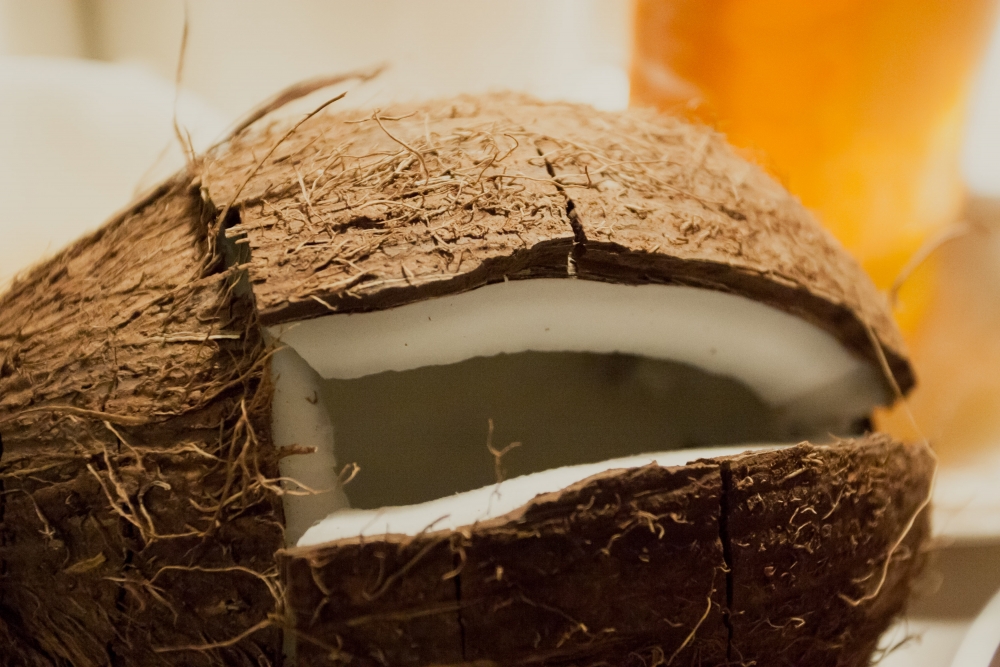 These directions are based on the ones found in Nourishing Traditions. You'll need two coconuts, and it yields a pint jar of coconut milk and a quart jar of dried, sweetened coconut meat.
Use a screw driver and hammer to poke two holes in the end of the coconut, then let the water drain out.
Place coconuts in a 350 degree oven until they crack (takes about 10 minutes - one made an audible cracking noise, the other was silent, so check the coconuts every few minutes for cracks).
Then you need to remove the outer husk. One coconut came out easily, then other one we had to break into chunks and use a sharp knife to pry out the meat.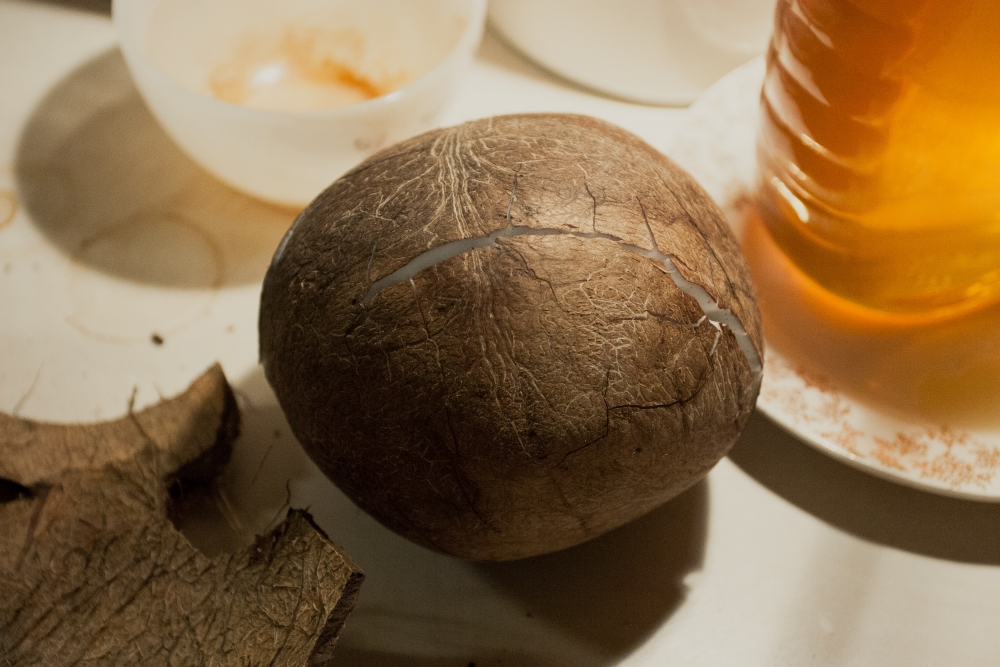 Use a vegetable peeler to peel off the brown inner skin, wash clean with water, and then chop into smaller pieces.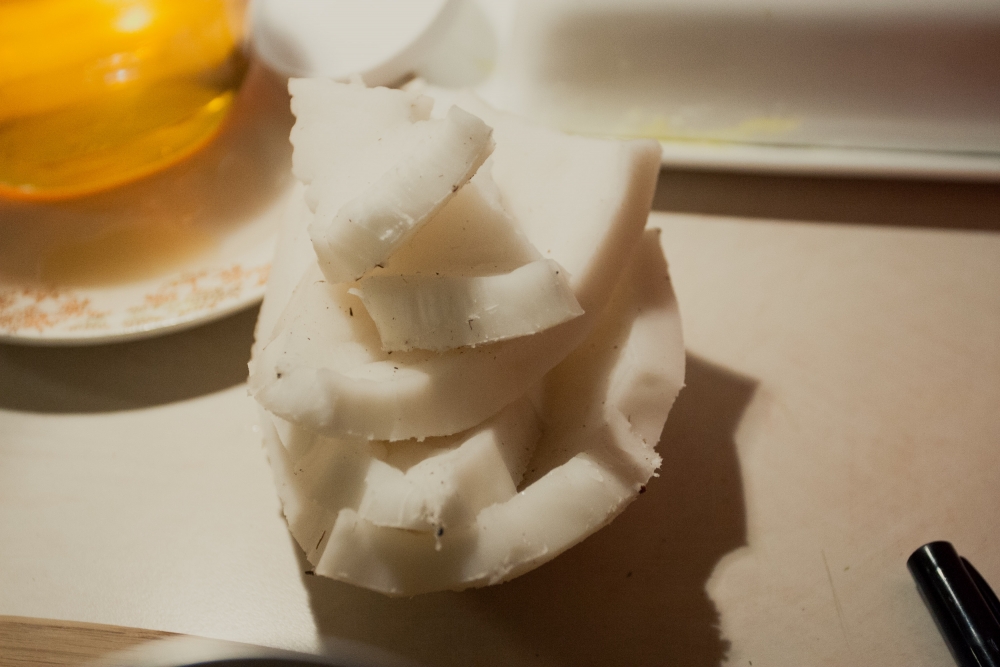 Process in the food processer until pieces are about pea sized, then add 1 cup warm water and process until nice and fluffy. If it seems so dry that it just flings to the top and stays there rather than turning over, add a tablespoon more of water at a time until it runs smoothly (it should NOT be watery, just very damp).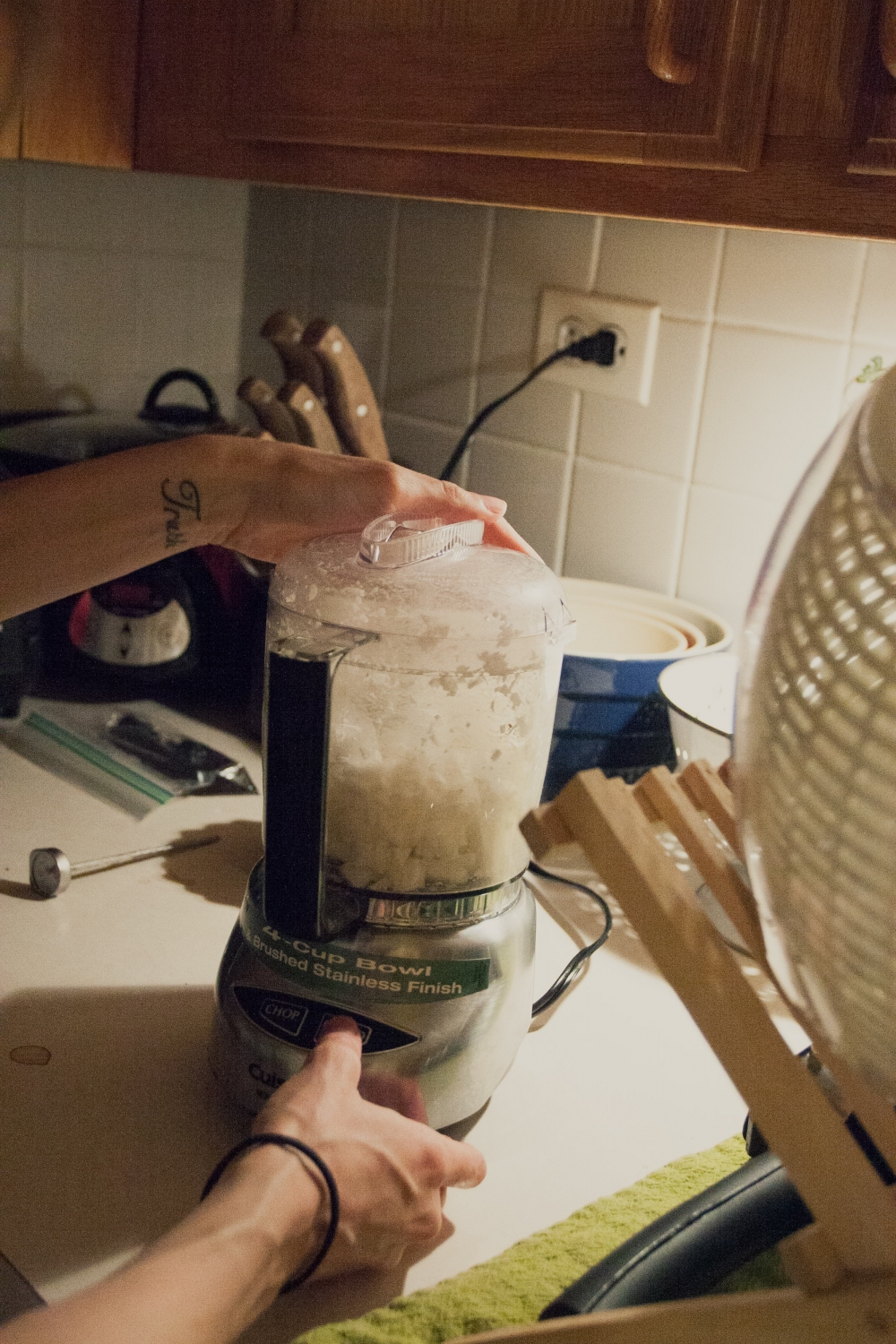 Line a bowl with a clean kitchen towel and dump the coconut into the towel.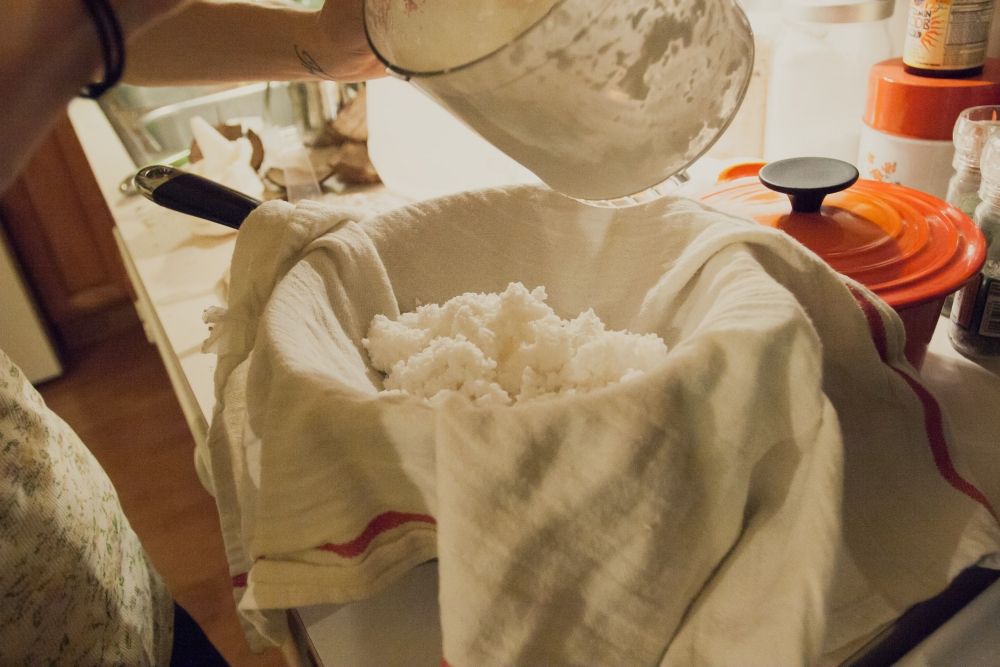 Then gather the four corners of the towel together and twist together tighter and tighter, simultaneously squeezing the juice out of the coconut meat with your other hand. Pour this into a clean mason jar and keep in the fridge for up to two days. This stuff is seriously delicious, I would drink it plain. Shake before using (it's normal for it to form a cream line, just like real milk).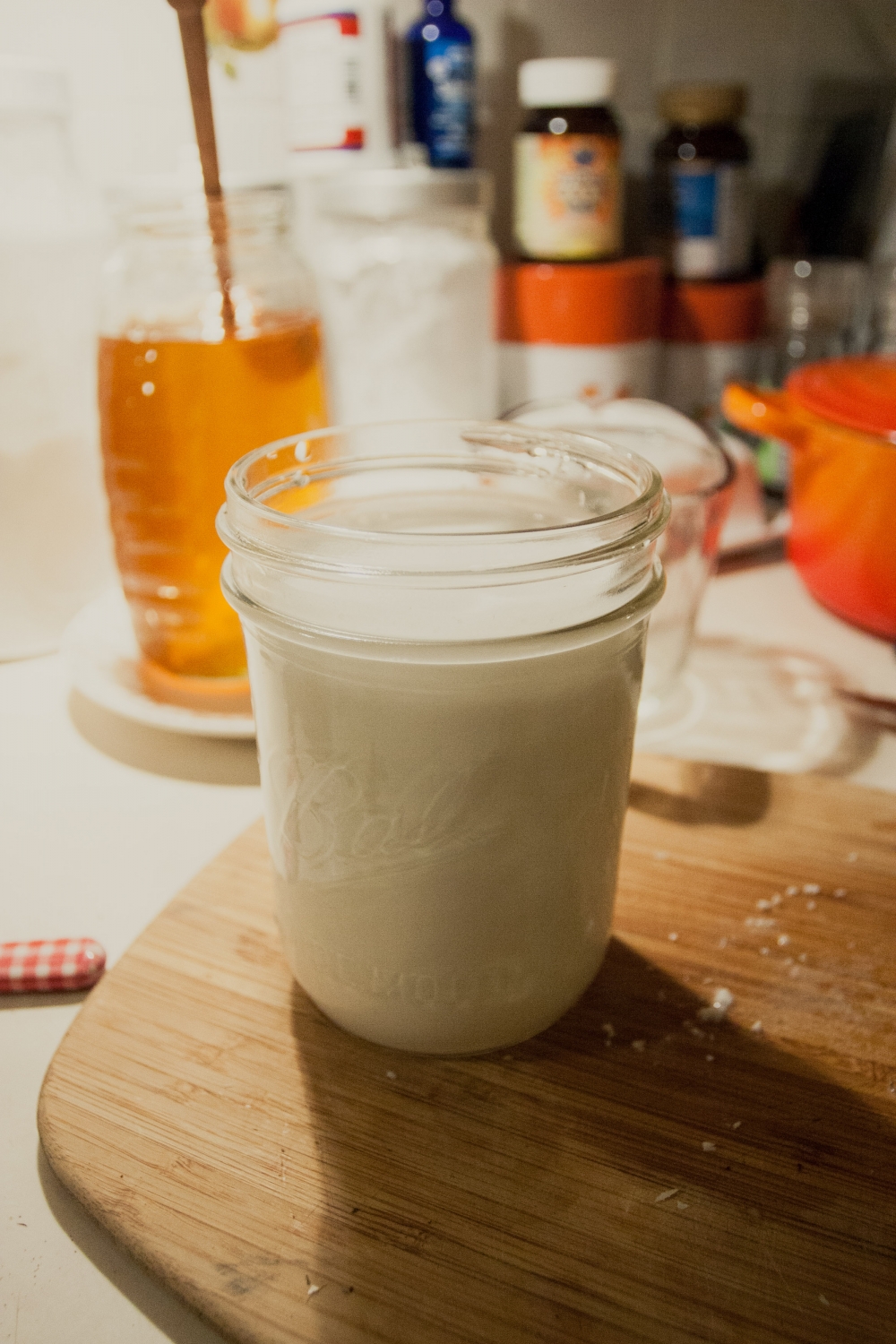 Take the remaining coconut meat, mix well with 1/4 cup grade B maple syrup (why grade B? it's more nutrient rich than other grades of maple syrup, and generally less refined).
Spread out on a cookie sheet lightly oiled with coconut oil, and dry out in a 150 dregree oven for about 12 hours (our oven only goes down to 170, so it only took about 8 hours).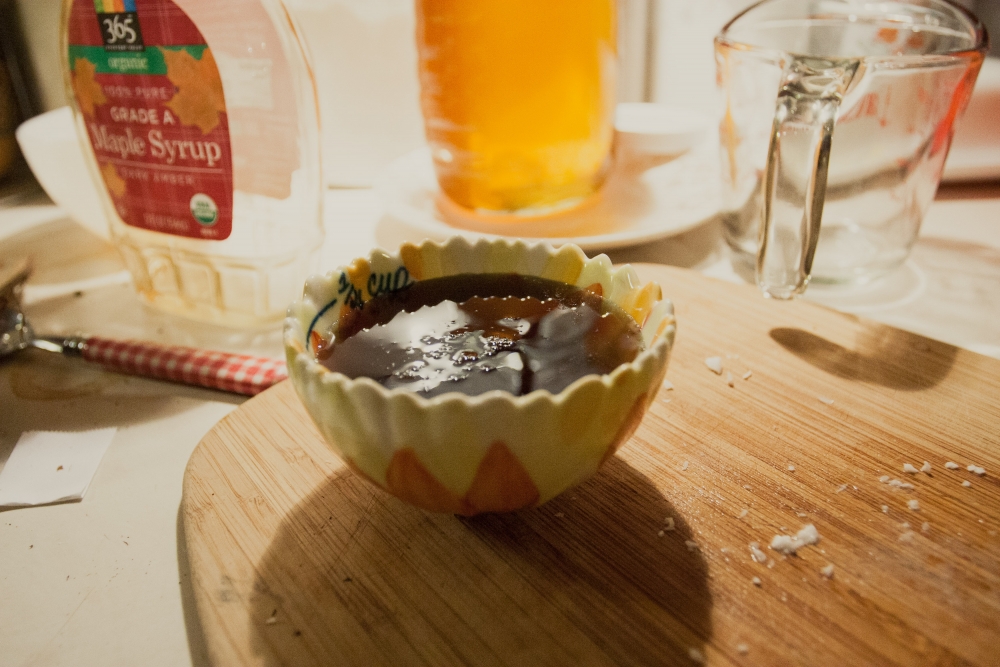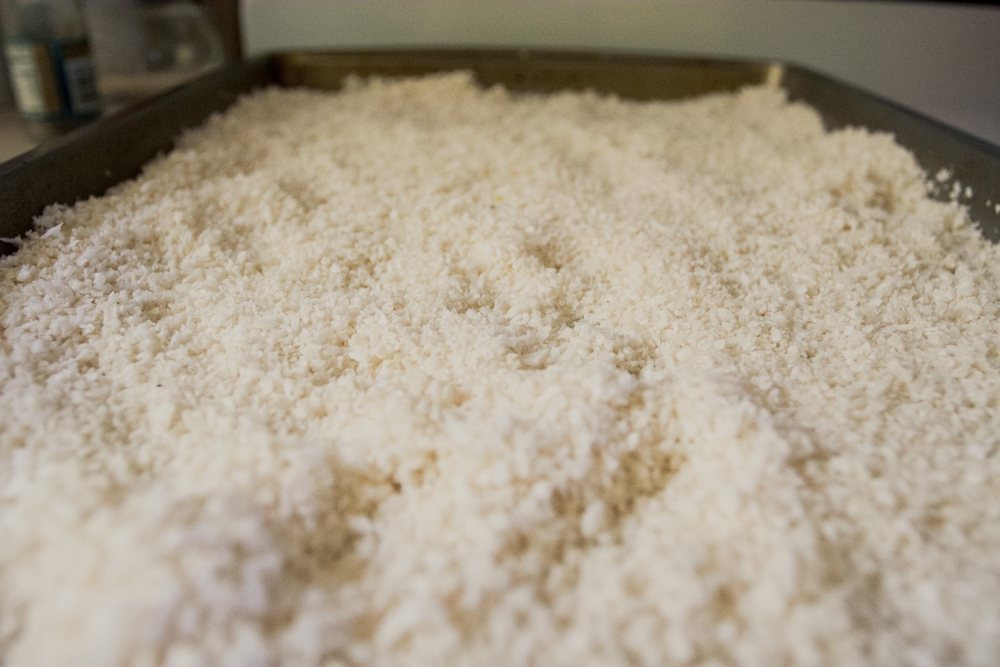 Store in an air-tight container at room temperature, or in the fridge or freezer.
It's delicious by itself, and it can also be sprinkled on yoghurt or oatmeal, or, of course, baked in macaroons (what do you think I did with it? :) )